HL-770 Automated Tray IC Lead / Mark Inspection System
A Professional Pick & Place Lead Scanner for ICs on Tray


Introduction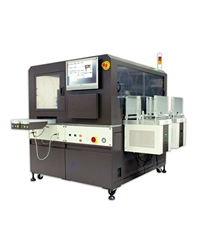 HL-770 system performs efficient and precised lead inspection, ball inspection, mark inspection and surface inspection with accurate 3D optical measurements for ICs on tray.
System operates two sets of Tray I/O alternatively with two independent pick & place motion mechanisms. The lead scanning mechanism performs multi-unit pick & place lead / ball scanning while the mark scanning / sorting mechanism performs column-by-column mark / surface scanning as well as sorting and binning of pass and fail units. This multi-task design makes system throughput up to around 15K ~ 35K UPH for Tray In ? Tray Out operation and around 8K ~ 13K UPH for Tray In ? Tape Out operation depending on IC package size.
Key features
<System function>
System performs lead and mark inspection for ICs on tray. Two sets of Tray I/O load trays onto lead scanning area alternatively to perform multi-unit pick & place lead / ball scanning. Trays are then moved to mark scanning / sorting area to perform column-by-column mark / surface scanning, failures are then sorted to lead / mark failure trays while the vacancies are fed with spare passes and then moved to Tray Out stack or optional Tape Out device via multi-unit pick & place tray-tape conversion.

<Lead / Ball inspection>
System provides 3D measurements of lead pitch, lead width, lead co-planarity, lead span, lead skew, terminal dimension, standoff …etc. for TSOP, QFP… packages.
System also provides 3D measurements of ball pitch, ball diameter, ball co-planarity, ball offset, ball height, ball shape, ball quality…etc. for BGA package.

<Mark / Surface inspection>
Either single marking criteria can be set for all characters or 3 different criteria can be individually set for small, medium and large characters to screen out defects of double marking, low contrast marking,
voids or bleeds in the mark, broken or smeared characters...etc.
System also provides surface inspection to screen out body defects such as scratch, crack, chipout…etc.

<3D optical measurement>
The 3DX, accommodated with 3 high resolution digital cameras plus working with powerful I-Cite vision software, provides the algorithms for high speed, accurate 3D image acquiring and measurement. Sub-pixel algorithms maximize accuracy of measurements to 1/4 pixel.

<High throughput>
Parallel scanning and sorting, up to a third or a quarter of tray units each pick & place for scanning and 10 units each pick & place for sorting / binning, visual scanning on the fly without having to stop and position as well as extremely high speed image processing contribute system throughput up to 15K~35K UPH depending on IC package size.

<Statistical report>
System provides data collection report including yield summary, rejects summary and overall statistical
summary with detailed CPK data for Process and QA engineering.
Specification
Motion
X-Y drive
High performance servo drive system
Transmission
Ball screw & linear guide mechanism
Resolution
X axis: ±0.02mm, Y axis: ±0.03mm, Z axis: ±0.02mm
Max. stroke
Mark / Lead scanning X axis: 203mm, Y axis: 910mm, Z axis: 20mm
Sorting / Binning motion X axis: 513mm, Y axis: 918mm, Z axis: 12mm
Pick & Place
Scanning: Tool-free replaceable nozzle module. Nozzle matrix: 25 x 3 nozzles max.
Sorting / binning
10 nozzles with 12mm ~ 16mm variable pitch
Vision
Camera
Fixed 3D cameras 2048 x 2048 pixels for lead / ball inspection (50mm x 50mm option)
Fixed 3D cameras 1392 x 1040 pixels for lead / ball inspection (25mm x 25mm option)
Carried 2D camera 1024 x 768 pixels for mark / surface inspection
Field of view
Optional 50mm x 50mm / 25mm x 25mm
Image acquiring time
~ 50 ms / image
Image processing time
30 ~ 60 ms / image
Optical process speed
~ 60K UPH (without handler index time)
3 sigma measurement accuracy
5 ~ 7 um
Applicable products
TSOP, QFP, BGA, QFN… etc. IC units packed in tray form
Throughput
Tray to tray
15K ~ 35K UPH (varied with package size and test yield)
Tray to tape
8K ~ 13K UPH (varied with package size and test yield)
I/O devices
Tray
Two Auto Tray devices for fresh and pass units. Stack up to 20~25 trays each Auto Tray
Two Semi-auto Tray devices for spare passes and mark / lead failures
Tape Out Dual
Dual tape track with independent tape driver
Accept tape with
12 ~ 32 mm tape width
Control
Built-in controller Vision
PC based control with I-Cite Vision software
Mechanism
PC based control with Visual C# software
Display / Data entry
17" LCD monitor / Keyboard / Mouse
Power
AC voltage
200 ~ 245V / 50-60Hz? Single phase
Power consumption
1.6 KVA
Air
Air pressure
0.6 Mpa (~6.0 kg/cm2)
Air consumption
250 liter/min
Dimension
Base Unit
(W)1320mm x(D) 1590mm x (H)1600mm
Standard tray in - tray out setup
(W) 1760mm x (D) 2020mm x (H) 1600mm
Optional tray in - tape out setup
(W) 2400mm x (D) 2020mm x (H)1600mm
Inquiry
<Business Hour> Week day10:00-17:00
Please feel free to contact us from the following form for more detail.